Get the newest cars, best rates, most availability and FREE shuttle service!
Book with confidence Real-time availability, instant confirmation, and free cancellations.
Top quality rentals Get around Key West easily and safely with our brand-new vehicles.
Free hotel shuttle Complimentary shuttle service for vehicle pickup and drop off included.
Award-winning Support Friendly customer service is always here when needed: Call, click, or chat.

Free Cancellation
You'll receive a full refund if you cancel at least 24 hours in advance of most of our vehicle rentals.

Verified Reviews
Book with confidence with thousands
of verified traveler reviews from
Golf Carts Key West and TripAdvisor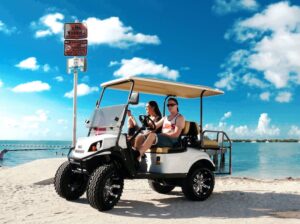 Golf Carts Key West
Enjoy free Key West hotel shuttle service when you grab a great Key West gas golf cart rental—You have found Golf Carts Key West, the home of the best Key West gas golf cart rentals. We have all the newest, coolest island transportation options so you can catch the breezy tropical resort vibe while navigating narrow Old Town streets with ease.
Our EZGO gas golf carts are a local favorite, and free Key West hotel shuttle service along with secure instant online booking make renting a gas golf cart in Key West simple. Plus our central location just 2 blocks from Mallory Square is perfect for cruise ship passengers.
Our Key West gas golf carts are street-legal, DOT safety approved, environmentally friendly, and lots of fun to drive. These peppy people movers are perfect for the crowded streets and packed parking spots of our island paradise. Golf Carts Key West is ready to help you beat the heat, skip the traffic, and have a blast exploring the backstreets and beaches of Key West behind the wheel of a top-quality gas-engine golf cart from legendary EZGO.
The top cart choice of PGA tournament pros has been redesigned to handle the streets with ease, making a Key West gas golf cart rental your best option for economical, efficient, low-emission vacation transportation. With flexible rental periods from 3 hours, 24 hours, or multi-day packages and the ability to move groups of up to eight adults in natural air-conditioned comfort, renting a gas golf cart in Key West is your easy, exciting Key West transportation solution.
Highlights
Legendary EZGO gas engine golf carts.
Rugged, safe, street-legal transportation.
Easy, secure online reservations & free hotel shuttle.
Key West electric car & scooter rentals too!
Best values in the city and great customer service.
Go Mobile with Golf Carts Key West
Creativity goes with mobility in America's only Caribbean Island paradise, and among the inspired alternative transportation options you will spot on Key West roads, golf carts are a common sight. Space is limited in the southernmost city; streets are tight and thousands of guests along with many special events can add up to congestion. A golf cart is agile, fast enough in a small city where things move at a relaxed pace, easy on the environment, and far more fun than a boring rental car.
The professional-grade EZGO carts we use for our Key West gas golf cart rentals are built to DOT standards for street use and carrying adults in safety and comfort. Full-size automotive tires with off-road tread and an all-steel high-clearance frame with front and rear bump guards give a confident feel on the road. The gas-sipping fuel economy of a quiet 4-stroke engine with plenty of power to run at the speed limit on all island streets lets you drive our carts with confidence all over Key West from Smathers Beach in the east to Fort Zachary Taylor State Park in the west.
Seat belts for all passengers, large rear-view mirrors, lights, turn signals, simple controls, soft high-back seats, and a locking storage compartment provide all the safety and convenience of a small car. Wide-open sides, a shade roof and fold-down wind screen deliver cool open-air comfort and excellent 360-degree views for sightseeing. In RV parks and gated communities it is common to see the elderly as well as very young children driving golf carts, an indication of how easy it is to drive these vehicles. It is also quick and easy to hop in and out of a golf cart at every attraction you visit, and you avoid the discomfort of climbing into a car that is hot from sitting in the Key West sun.
Big Group? No Problem!
We offer high-capacity Key West gas golf carts, so if you are in Key West with a large group for a special occasion or corporate event, it is still possible to enjoy the fun and freedom of island-style transportation. Our 6- and 8-passenger EZGO carts are built to handle groups. They are made for heavy service on college and corporate campuses, at airports, destination resorts and other sites where transporting people is a part of daily operations.
With all the safety, comfort, and convenience features of our smaller carts, the high-capacity models can move your group around Key West in style. Forget about bulky, fuel-guzzling, incredibly expensive and impossible to park vans or SUVs. A Key West visit is no time to be struggling with a huge, boring vehicle when driving a powerful gas engine golf cart is so simple, and your passengers will love the ease of getting in and out of their ride.
All the safety and comfort features needed for a larger group are in place, flexible rental options and free shuttle service are invaluable for planning group trips and special events, and no other form of large group transportation can match a Key West gas golf cart rental in terms of value for the money.
Book Online with Golf Carts Key West
You go on vacation to relax, not struggle with phone calls and paperwork, so Golf Carts Key West makes booking gas golf cart rentals in Key West fast and easy. We offer convenient online access to well-maintained, safe vehicles at the best rates on the island. Do a little scrolling and make a few taps on your tablet or smart phone, give us some basic information, and your Key West gas golf cart rental is ready in barely a minute with all necessary vouchers and details delivered by email. And you get the added advantage of free shuttle service for pickup and drop off.
Our 100% secure Internet-powered booking system streamlines the entire rental process so you avoid worry and wasted time, but excellent customer service via phone, chat, or email is always available if you have any questions. Whether you need an 8-seat EZGO gas-powered golf cart, a zero-emission electric car, or a sporty one-passenger scooter, Golf Carts Key West is your trusted local source.
We take pride in our reputation established over decades of offering island visitors the best Key West gas golf cart rentals along with a full range of additional low- and zero-emission transportation options. We are here to help you get the most out of your time in Key West, so choose your Key West transportation solution now at Golf Carts Key West!